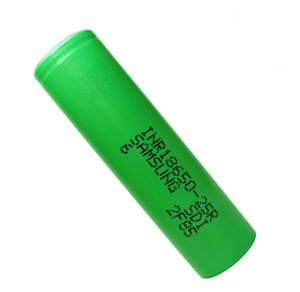 Samsung 25 R 25 A - 18650 Battery
Regular price $11.99 Sale
PRODUCT DESCRIPTION
Genuine Samsung INR18650-25R 2500 mAh Battery
With a 25 amp max continuous discharge this battery can handle sub-ohm builds down to .15 ohms (at your own risk). 
However, where this battery really shines is when used to power a VV or VW mod.  Our experience so far has been that this battery significantly outlasts the high current drain king of the hill Sony 18650VTC5 when used at the current levels (5 amps and below) that most VV/VW mods are limited to.   If your VV/VW device (other than a DNA-20/30) can use flat top 18650s (Provari's cannot), then this is the battery you need !
Specs:
Flat Top 

Nominal capacity: 2500 mah

Max Continuous Rated Discharge: 25 amps (at 25 degrees C)

Nominal voltage: 3.6v

After a fresh charge: 4.2v

Cycle info: Capacity drops to 60% after 250 full charge/discharge Cycles

Don't discharge below: 2.5v

Standard Charge: CC/CV @ 1 amp / 4.20 volts +/- .05v, 100 mA cut-off

(Max) Rapid Charge: CC/CV @ 4amps / 4.20 volts +/- .05v, 100 mA cut-off

Impedance: 22.15 +/- 2 milliohms

Weight: 45g

Height: 64.85 +/- 0.15mm

Diameter: 18.33 +/- 0.07mm

Operational Charging Temperature Range: 0 to 50 degrees C (best below 45 degrees C)

Operational Discharging Temperature Range: -20 to +75 degrees C (best below 60 degrees C)

You can store them for 1.5 years at -30 to + 25 degrees C, 3 months at 30 to 45 C and 1 month at 30 to 60 C (in other words, store them in a cool place and they'll last longer)
Safety Notes:
Do NOT short.

Do NOT leave unattended when charging.

Do NOT leave unattended immediately AFTER charging.

Do NOT carry in your pocket or purse unless they are in a secure non-conductive carry case. 

They are not toys. Do not let your children or pets play with them.

Do NOT recharge with cheap chargers that keep on trickle charging after the normal cycle or that do not follow the Constant Current / Constant Voltage (CC/CV) algorithm properly.  If you have any doubt about the suitability of your current charger to properly charge these batteries, please ASK us first !